TV Night Belly Dance Style
Mark your calendars for Saturday October 14th for a fun evening of belly dancing to some of your favorite TV theme songs. This will be a show like no other.
Moonlight and Starlight Sirens Tribal Belly Dance Companies will be your hosts for the evening and what a fun evening we have planned for you.
Performances will be to the theme songs of TV show favorites, old and new. There will be TV trivia fun, raffle prizes, food and some fun and Fantastic performances. Make the evening more fun and come as your favorite TV character.
The event will be held at the Women's Club of Mesa - 200 N. Macdonald, Mesa, AZ 85201 (cross streets - University & Center)
Performances by some of your favorite troupes from around the State: Anaya Tribal, Divine Chaos, RaMagik, Moonlight & Starlight Sirens Dance Companies and Nartita Tara.
Doors open at 6:30 p.m., show starts at 7:00 p.m.
Below is more information about the amazing groups that will be performing that night.
Anaya Tribal -
Anaya Tribal performs their own signature style of Improvisational Tribal Bellydance.
Incorporating innovative & experimental fusion into their dynamic performances such as zils, sword, tribal skirt and anything else they can get their hands on, Anaya creates a unique performance every time!! Influenced by many wonderful dancers of the world, Anaya Tribal has been performing their unique blend incorporating both their cabaret and tribal backgrounds since 2003. You can find them performing all over Arizona and the West Coast!
Divine Chaos -

Divine Chaos TribalŪ Fusion, LLC has been together for over a decade, professionally performing and teaching internationally and nationally. It is also with many blessings they are releasing their 3rd Instructional DVD worldwide in their sold-out series for Improvisational Skirt, and are the producers for Phoenix Rising Dance FestivalŪ Find out more at www.DivineChaosTribal.com
Moonlight Sirens Tribal & Starlight Sirens Sister Tribal -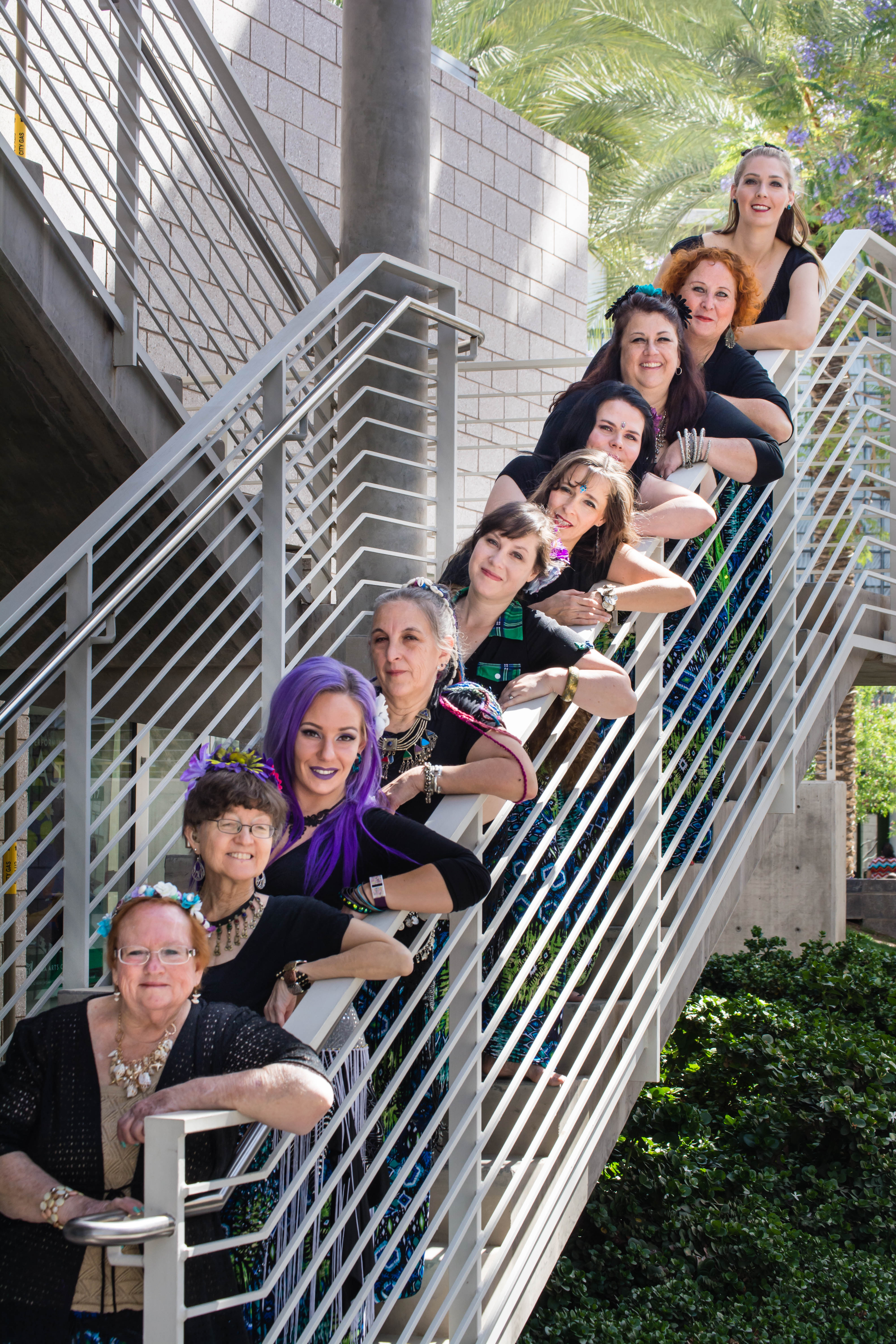 In February 2017 Moonlight Sirens Tribal Dance Company along with Starlight Sirens Sister Tribal Dance Company were born. The dance companies are based out of the Mesa Arts Center under the direction of Yasmina.

Our mission and vision is to share our love of belly dance and the joy that it brings with the local community through performances, classes and special workshops.

We are thrilled to bring you our 1st Annual Show with tonight's theme: TV Show Theme Songs.
Nartita Tara -
Mia Donna has been teaching Belly Dance since 2002 and was a pioneer in the Tribal Fusion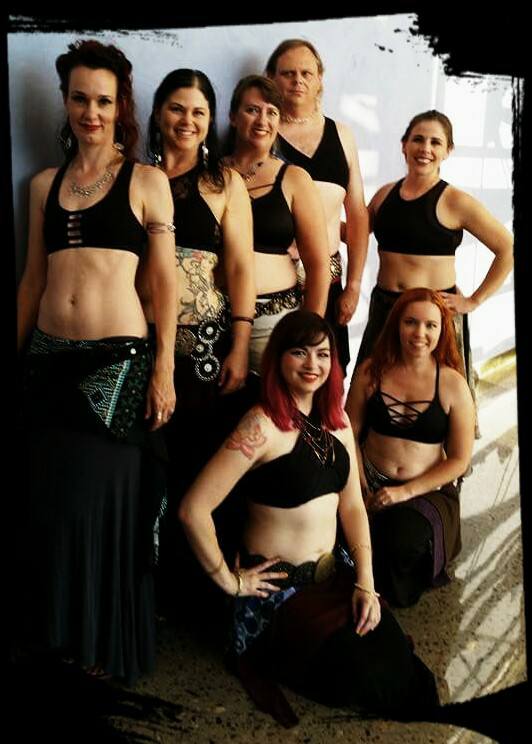 movement. With her Belly Dance roots in traditional Egyptian, Lebanese, Greek, Turkish and Rom, she fully honors all styles and the past, present and future of this sacred dance! Mia graduated college with a degree in Exercise Science and double minors in Dance and Psychology transforming her into a full blown dance geek! In 2016, Mia Donna's choreography class decided they wanted to bust out of the studio and hit the stage! Just like that *Nartita Tara* was born!

*Nartita Tara* meaning "Dance Star" is a Tribal Fusion based troupe that has explored aspects of Modern, Lyrical, Jazz and we are just warming up! We are so excited to be dancing together and allowing our dance to morph and grow and change! Keep your eyes open for us as we go on a journey to dance among the stars!!! More information on Mia Donna here: www.miadonna.net
RaMagik -

RaMagik Belly Dance is a Modern Fusion Belly Dance group based in Casa Grande, Arizona, drawing together and celebrating the strengths of its diverse membership. Members come from strong backgrounds in American Cabaret, Egyptian Raqs Sharqi, Tribal Fusion, American Tribal Style, Improvisation Tribal Style (UNMATA Hot Pot Style), Hip Hop, Latin Ballroom, Flamenco, Bhangra and more and are excited to blend these styles to create their own blend of exciting Magik! You can visit them on the web at http://www.RaMagik.com!
Tickets will be available at the door or you can purchase them below using PayPal in advance.
More about Yasmina

Teaching & Performances

Bio, Photos & More

Costume Stores

follow me on

---

Spotlight Video
of the Month
Vintage Belly Dance Performances from the Golden Era of Cinema - a collection of 31 dance performances from some of the greats in Belly Dancing.

Spotlight Link
Take it Off! a guide to removing stage makeup from your face, body & costumes - by Princess Farhana

What's New

TV Night Belly Dance Style
Join Anaya Tribal, Divine Chaos, Nartita Tara, Moonlight & Starlight Sirens Tribal and RaMagik in an evening show performing to some of your favorite TV show theme songs.
Saturday October 14, 2017

Updates:

---

Reigning Down
on Oregon

February 22-25, 2018

West Salem 4H Center
5390 4H Road, NW, Salem

Performance Intensive
by Sabine

Immersion Teachers
Sharon Kihara / Claudia Shimmies / Cassandra Rose / Michelle Sorensen

Workshops with
Gene Stewart / Mezdulene / Katy Housemann / Luna / Jewels / Dahlia / Sam Riggs / Jillian of The Verdant Muse

---

Belly Dancing with
Yasmina

Cabaret Classes
Tuesday Nights
Beg. Basic 5:30 - 6:30
Beg. 2 6:30 - 7:30
Intermediate 7:30 - 8:30

Tribal Classes
Wednesday Nights
Beg. Basic 5:30 - 6:30
Beg. 2 6:30 - 7:30
Intermediate 7:30 - 8:30

Fall Session Starts
8/29/17 - 10/12/17
10/24/17 - 12/14/17

Classes in:
American Cabaret, Tribal,
Bellyrobics,
Middle Eastern Drum & Rhythm

Mesa Arts Center
1 East Main St.
Mesa, AZ 85201

---

Pamela's
Treasure
Emporium




visit us on
eBay


---

Would you like to see your ad here?? Check out the Ad Page for more info.

---