Belly Dance in Motion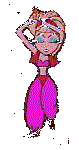 Contained on this page are links to websites that have video clips of belly dancing. Due to technological limitations of video broadcast over the internet, the quality of movement on some of these videos can be jerky and the images are small and therefore tend to be dark. You may also need to download video player software to view these clips. The websites featuring these clips have the instructions you will need to view the clips. I am always adding more items to my page, so please check back for more video clips.
Amana' Studio - French website in both English and French
Amara - clips from Amara's website
Amira - various performance and DVD clips of Amira
Anna Pipoyan - clips of Anna
Anaya Tribal - various clips from YouTube
Arabesque Dance Co. - various clips of Arabesque
Arabesque / Yasmina Ramzy Docutmentary Part 1 and Part 2
Arizona Belly Dancers - variety of dancers from Arizona from You Tube (note some misc. clips appear due to search word AZ)
Atea - clips from Atea's website
Bal Anat Documentary 1970/1972
Basharina Alina - 1st place winner, children belly dance competition
Beneath the Veil...Art Form of Belly Dance - trailer
Bella Donna - clips of Bella Donna
Belly dance flash mob in Brussels
Bellydance Odyssey Productions - clips of various dancers
BellyQueen - clips from BellyQueen's website
Belly Dance Superstars - various clips
Beyond the Belly - mini documentary
Bhangra - various clips from You Tube
Bollywood - various clips from You Tube
Candle dance - Oriental dance school in Russia
Carrie Konyha - various clips from YouTube
Celine - clips of Celine
Daniela - clip from Tribal Cafe
Delilah - clips from Visionary Dance Productions page of Delilah and friends
Desert Orchid Dance Co. - clips from YouTube
Egyptian Belly Dance - various clips from YouTube
Egyptian Bellydancer Documentary - interview with Dina, reported by Davin Hutchins
Egyptian Puppet Belly Dance - amazing puppetry!
Ellisha - various clips from YouTube
Eva Cernik - various clips from YouTube
Fan Veils - various clips of dancers performing with fan veils
FCBD® - clips of FatChanceBellyDance
Global Bellydance Videos - a collection of belly dance videos from all over the world, from professionals to amateurs.
Habib - clip from YouTube
Hahbi Ru' - various clips from YouTube
Hands of Kali - various clips from YouTube
Hannan - clips from Hannan's website
Isidora Bushkovski - various clips from YouTube
Jamila Salimpour Bellydancing History Legends Belly Dance
Jenna - clips of Jenna
Jezebelly Tribal Bellydance - various clips from YouTube
Jillina - demo video clips of Jillina and the Sahlala Dancers
Karen Barbee Adkisson - Art & History of Belly Dance
Kendra Searl - tribal fusion piece
Laura - comedy piece from Tribal Fusion Faire
Magic Hands - it's not belly dancing but it a cool video
Male Belly Dancers - various clips from YouTube
Michelle - clips of Michelle
Mustika Tribal Belly Dance - performance at Rock Cafe
Naima Akef - one of the greats from the Golden Age of Egyptian Oriental Dance, various clips from YouTube
Najia - clips of Najia
Nesrin Topkapi - various clips from YouTube
Poi Voi - various artists performing poi voi
Rachel Brice - clips of Rachel (select video from nav bar)
Saada Tribal Group - sword dance
Sabah - dancing on point
Sabaya - various clips of group form YouTube
Sadie - various clips from YouTube
Sahira - "Ali" choreography
Salome - clips of Salome (you will need to scroll down the page for clips)
Samia Gamal - one of the greats from the Golden Age of Egyptian Oriental Dance, various clips from YouTube
Samira Shuruk - clips of Samira Shuruk
Sashi - Gothic Tribal Fusion
Seido - drum solo by Seido from You Tube
Sergio Montana - 10 year old dancer
Sharon Kihara - clips of Sharon Kihara
Sherry - clip from YouTube
Soheir Zaki - one of the greats from Egypt in the 60's & 70's, various clips from YouTube
Soraya - clips of Soraya
Sphinx Records - clips of various dancers (select video clips from left navigation bar)
Suspira - clips of Suspira from You Tube
Tahiya Karioka - one of the greats from the Golden Age of Egyptian Oriental Dance, various clips from YouTube
Tarik - balancing a water pipe, great dance
Tamalyn Dallal - clips of Tamalyn Dallal
Tamar Shaanan - clips of Tamar Shaanan
Tribal Bellydance - various clips of tribal belly dancing from You Tube
Tribal Dream - advance group performance
Tribal Fest 7 - various clips from YouTube
Tribal Fest 8 - various clips from YouTube
Tribal Fest 9 - various clips from YouTube
Tribal Fest 10 - various clips from YouTube
Tribal Fest 11 - various clips from YouTube
Turkish Belly Dance - various clips of Turkish belly dancers
Unmata - various clips of group
Urban Gypsies - various clips of group

Venus Egyptian Belly Dance - clips of Venus and her students performing. (select "gallery" to be taken to clips)
Vestacha Mora - clips of Vestacha Mora
Victoria - clips of Victoria of Houston Bellydance (scroll to bottom of page)
Vintage TV/Movie Belly Dance!! - clips of dancers from TV shows & movies
Yasmina - various clips of Yasmina and her students
What is Tribal Style Belly Dance
What is Tribal Fusion Belly Dance
Zoe Jakes - clips of Zoe Jakes and some of the Yard Dogs Road Tour