Belly Dance Booklist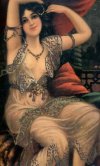 Throughout my dancing and teaching, I am always asked about
the history of belly dancing, the culture in which it comes from and
where can I get more information about this dance form. I decided
to put a book list together and hopefully cover some of these areas
of this dance form we have come to love and enjoy. This list is not
all-inclusive, but it is a start. You are probably wondering where you
might locate the books below. Check out your local public, college
and university libraries. Used books stories are great and have some
of those hard to find out of print books. My favorite place to purchase
books is Amazon.com and several of the belly dance vendors also sell
books. Happy reading…

Other sites with Book Lists & Reviews
Online Book Stores
Book list
New, Old and Forthcoming Books
A B C D E F G H I J K L M N O P Q R S T U V W X Y Z

40 Days and 1001 Nights, One Woman's Dance Through Life in the Islamic World
by Tamalyn Dallal
Paperback: 308 pages
Publisher: Melati Press; 2nd edition (February 15, 2008)
ISBN-10: 0979515505
ISBN-13: 978-0979515507
Advance Belly Dance
by Vicki Corona
Paperback: 28 pages
Publisher: Dance Fantasy Productions; 1 Ed edition (April 1989)
Language: English
ISBN-10: 1585130257
ISBN-13: 978-1585130252
American Dancer: a Belly Dancing Story
by Bev Pogreba (Author)
Print Length: 262 pages
Publication Date: August 6, 2015
Sold by: Amazon Digital Services, Inc.
Language: English
ASIN: B013KT1772 (Kindle Edition) - $3.99

Ancient Egyptian Dances
by Irena Lexova, Diane Bergman (Introduction), K. Haltmar (translator)
176 pages
Publication date March 2000
Dover Publishers, ISBN 0486409066

Arabic Musical Scales
by Cameron Powers
Paperback: 56 pages
Publisher: GL Design (October 26, 2006)
ISBN-10: 0974588245
ISBN-13: 978-0974588247

The Art of Belly Dancing: Shimmy Your Way to a Sexier You!
by Melanie Votaw, Valerie Rushmere
Paperback: 62 pages
Publisher: Running Press Book Publishers; Bk&Acces edition (June 1, 2004)
ISBN: 0762418141
Badia's Masabni, the legend jewel of the Nile, Vol. 1
This book is every belly dancer's dream come true! The late Badia's Masabni was a not only
a legend in her own time, but many of her students became legendary dancers as well such as
Tahia Karioka, Samia Gamal, Naima Akef and more. Read about Badia'a's experiences as
the famous owner of Egypt's Casino Opera. Here fabulous story includes information about
the life and history of the Ghawazee and Beledi as well as the tradition of belly dance in past
years! Over 50 pictures included!
Basic Production for Belly Dance
by Roger Wood
Perfect Paperback
Publisher: Roger Wood (2011)
ASIN: B0025V2TW4
Beauty and the East: a book of oriental body care
by Wendy Buonaventera & Isobel Eady
Paperback: 160 pages
Publisher: Interlink Pub Group; (November 2000)
ISBN: 1566563879
Belly Dance Around the World
Caitlin McDonald
Paperback: 224 pages
Publisher: McFarland (June 27, 2013)
Language: English
ISBN-10: 0786473703
ISBN-13: 978-0786473700
Belly Dance Beyond Moves, Combos, and Choreography 82 Lesson Plans, Games,
and Exercises to Make Your Classes Fun, Productive and Profitable
by Taaj
Paperback: 122 pages
Publisher: lulu.com (May 13, 2010)
Language: English
ISBN-10: 0557426723
ISBN-13: 978-0557426720
Price $31.95
The Belly Dance Book of Practice Prompts: Inspiration for Tribal, Cabaret, and Fusion Dancers Paperback
by Julie Eason
Paperback: 136 pages
Publisher: Thanet House Publishing; 1 edition (December 1, 2015)
Language: English
ISBN-10: 1944602011
ISBN-13: 978-1944602017

The Belly Dance Book: rediscovering the oldest dance
edited by Tazz Richards
208 pages, B/W, full color cover
publication date: September 2000
ISBN: 0-9700247-0-3

Belly Dance: celebrating the sacred feminine
by Martha Elena
Over 70,000 Photos of Belly Dancers were made in creating this exquisite portrayal.
Photographed during a 10 year period in B&W and Color, in nature and during live performances.
Prose and poetry on passion, the Goddess, and the power of the sacred feminine. A meditation on
healing, found in the most ancient of dances.
Large 10" x 12.5" Coffee Table Book 160 full color pages ~
120 Dancers Vellum overlays ~ Gold Metallic Ink

Belly Dance Choreography: Text and Combos to Help the Perplexed Choreographer
by Leyla Najma
Paperback: 124 pages
Publisher: CreateSpace Independent Publishing Platform; 1 edition (May 13, 2013)
Language: English
ISBN-10: 1484965698
ISBN-13: 978-1484965696

A Belly Dance Companion: your essential guide to belly dance (Kindle edition)
by Jennifer Sobel
File Size: 1940 KB
Print Length: 182 pages
Sold by: Amazon Digital Services, Inc.
Language: English
ASIN: B00IZ4C0KQ

Belly Dance Handbook
by Princess Farhana
Paperback: 226 pages
Publisher: Princess Productions; 1 edition (January 10, 2014)
Language: English
ISBN-10: 0615938310
ISBN-13: 978-0615938318

Belly Dance Journal
by Lauren "Zehara" Haas
Paperback: 224 pages
Publisher: CreateSpace Independent Publishing Platform (October 11, 2012)
Language: English
ISBN-10: 1480081841
ISBN-13: 978-1480081840

Belly Dance: Orientalism, Transnationalism, And Harem Fantasy (Bibliotheca Iranica.
Performing Arts Series)
by Anthony Shay (Editor), Barbara Sellers-Young (Editor)
$40.00
Paperback: 421 pages
Publisher: Mazda Publishers (October 30, 2005)
Language: English
ISBN-10: 1568591837
ISBN-13: 978-1568591834

The Belly Dance Reader
by Lynette Harris
Paperback: 280 pages
Publisher: Gilded Serpent; 1 edition (December 7, 2012)
Language: English
ISBN-10: 0615735592
ISBN-13: 978-0615735597

Belly Dance: the dance of Mother Earth
by Tina Hobin
Paperback: 262 pages
Marion Boyars; (June 2003) - ISBN: 0714530913

Belly Dance: the teacher's book, methodology, guidance and didactic resources
by Amaya Felices
Paperback: 202 pages
Publisher: CreateSpace; 2 Revised edition (April 20, 2010)
Language: English
ISBN-10: 1450507476
ISBN-13: 978-1450507479
$25.26

Belly Dance Wisdom: For Fitness, Pregnancy and a Divine Sexuality
by Deleela Morad
Paperback: 156 pages
Publisher: Booklocker.com, Inc. (November 22, 2006)
Language: English
ISBN-10: 1601450915
ISBN-13: 978-1601450913

The Belly Dancer
by DeAnna Cameron
Paperback: 320 pages
Publisher: Berkley Trade; 1 edition (July 7, 2009)
Language: English
ISBN-10: 0425227782
ISBN-13: 978-0425227787
(Romance, fiction)

Belly Dancing Basics
by Laura Cooper, Sarah Skinner (Photographer)
144 pages, (April 28, 2004)
Publisher: Sterling
ISBN: 140271078X

Belly Dancing for Beginners (Kindle Edition)
by Liz Byrski
File Size: 602 KB
Print Length: 311 pages
Publisher: Pan Australia (November 10, 2007)
Sold by: Amazon Digital Services, Inc.
Language: English
ASIN: B004ZI0N2S

Belly Dancing for Fitness: The Ultimate Dance Workout that Unleashes Your Creative Spirit
by Tamalyn Dallal
144 pages, (May 10, 2004)
Publisher: Ulysses Press
ISBN: 1569754101

Belly Dancing: for Health & Relaxation
by Tina Hobin
Paperback: 96 pages
Focus Publishing; (June 1982) - ISBN: 0715616056

Belly Dancing: getting started
by Lisa Hartwell
Format: Kindle Edition
File Size: 98 KB
Sold by: Amazon Digital Services
Language: English
ASIN: B006T5GMMU
Price $0.99

Belly Dancing: The Sensual Art Of Energy And Spirit
by Pina Coluccia, Anette Paffrath, Jean Putz
Paperback: 192 pages
Publisher: Park Street Press (October 30, 2004)
ISBN: 1594770212

Bellydance
by Dolphina
Paperback: 160 pages
Publisher: DK ADULT (December 27, 2004)
ISBN: 0756605555

Bellydance: a guide to Middle Eastern dance, its music, its culture and costume
by Keti Sharif
Paperback: 132 pages
Publisher: Allen & Unwin Pty., Limited (Australia) (February 28, 2005)
ISBN: 1741143764

Bellydancing for Fitness : the sexy art that tones your abs, butt, and thighs
by Rania Bossonis
Paperback: 176 pages
Publisher: Fair Winds Press; Book & CD edition (November 1, 2004)
ISBN: 159233086X

"Bertha Belly" Pincushion & Ragdoll Patterns
by Vicki Corona
Paperback: 22 pages
Publisher: Earth Dance International Publishing; 1 Ed edition (January 1990)
ISBN: 1585130389

C

Classic Stars of Bellydance
by Gordon Inkeles (Author), Bill Cote (Author)
Arcata Arts (June 30, 2007)
Language: English
ISBN-10: 0974853550
ISBN-13: 978-0974853550
Price $19.95

Dance of the Womb: The Essential Guide to Belly Dance for Pregnancy and Birth
by Maha Al Musa
Hardcover: 280 pages
Publisher: Maha Al Musa (June 2008)
ISBN-10: 0646487051
ISBN-13: 978-0646487052
Price $65.00

The Dancing Cymbalist - How to play music with finger cymbals & dance at the same time (Paperback)
by Jenna Woods
Paperback: 204 pages
Publisher: Oyna Music in Motion Arts; 1 edition (November 1, 2007)
Language: English
ISBN-10: 0977819302
ISBN-13: 978-0977819300

Dancing Fear and Desire: race, sexuality and imperial politics in Middle Eastern dance
by Stavros Starrou Karayanni
Paperback: 229 pages
Publisher: Wilfrid Laurier University Press (January 2005)
ISBN: 0889204543

Dancing Through the Chaos
by Melissa Yin
Format: Kindle Edition
File Size: 479 KB
Simultaneous Device Usage: Unlimited
Sold by: Amazon Digital Services
Language: English
ASIN: B005LH4NZU
$2.99

The Dairy of Mata Hari
by Mata Hari
Format: Kindle Edition
File Size: 202 KB
Print Length: 182 pages
Page Numbers Source ISBN: 1596541970
Simultaneous Device Usage: Unlimited
Publisher: SophieBlue (March 30, 2008)
Sold by: Amazon Digital Services
Language: English
ASIN: B00170N0P4
$.99

Dynamic Belly Dance, The Joyful Journey of Dancemaking and Performing
by Ramona
160 pages, color & B/W photos & illustrations

Published May 2007 by American Bellydance Innovations

ISBN 978-0-615-13326-3

Elinor Carucci: Diary Of A Dancer
by Elinor Carucci (Photographer)
$32.96
Hardcover: 96 pages
Publisher: SteidlMack (September 15, 2005)
Language: English
ISBN-10: 3865211550
ISBN-13: 978-3865211552

Enlightenment Dance, Dancing Your Way to Eternal Bliss
by Rosane Gibson (Hozuhni)
Paperback: 200 pages
Publisher: Authorhouse (March 2006)
ISBN: 1420881221

Foundations (Bellydance for the Versatile Dancer, Volume I)
by Zanbaka
Publisher: ZD Publications; 1st edition (2007)
ASIN: B0010BF9LS

Handbook of Basic Dance Terminology (Kindle edition)
by Morwenna Assaf
File Size: 2318 KB
Print Length: 194 pages
Sold by: Amazon Digital Services, Inc.
Language: English
ASIN: B00C1PNCDY

I Belly Dance Because: the transformative power of dance
by Terri Allred
Paperback: 82 pages
Publisher: XLIBRIS (March 17, 2014)
Language: English
ISBN-10: 1493169009
ISBN-13: 978-1493169009

I Know Who I am When I Belly Dance! A Handbook for Reclaiming Your True Feminine Self (Paperback)
by Deleela Morad MA (Author)
$13.95
Paperback: 184 pages
Publisher: Booklocker.com, Inc. (May 20, 2009)
Language: English
ISBN-10: 160145788X
ISBN-13: 978-1601457882

Intermediate Belly Dancing
by Vicki Corona
Paperback: 28 pages
Publisher: Dance Fantasy Productions; 1ST edition (October 31, 1989)
Language: English
ISBN-10: 1585130249
ISBN-13: 978-1585130245
price $14.95

Is It All About Hips?: around the world with Bollywood dance
Paperback: 276 pages
Publisher: Sage Publications Pvt. Ltd (September 8, 2011)
Language: English
ISBN-10: 8132106857
ISBN-13: 978-8132106852

Just Belly Dance Photos! big book of photographs & pictures of belly dancing, vol. 1 (Kindle edition)
File Size: 3013 KB
Print Length: 32 pages
Simultaneous Device Usage: Unlimited
Publisher: Big Book of Photos (November 25, 2012)
Series: Just Belly Dance Photos! (Book 1)
Sold by: Amazon Digital Services, Inc.
Language: English
ASIN: B00ADMGXN8

Learn to Belly Dance
by Vicki Corona
Paperback: 34 pages
Publisher: Dance Fantasy Productions; 1 Ed edition (April 1989)
Language: English
ISBN-10: 1585130230
ISBN-13: 978-1585130238
price $14.95

Learn to Belly Dance Textbook & Certification Program: dance lessons & choreographies
for students, troupes, performers & dance instructors
by Shalimar Ali
Paperback: 214 pages
Publisher: Xlibris, Corp. (August 17, 2011)
Language: English
ISBN-10: 1465346589
ISBN-13: 978-1465346582
$19.99

Leyla Najma's Belly Dance Choreography - text and combos to help the perplexed
choreographer (Kindle Edition)
by Leyla Najma
File Size: 334 KB
Simultaneous Device Usage: Unlimited
Publisher: Leyla Najma; 1 edition (May 6, 2013)
Sold by: Amazon Digital Services, Inc.
Language: English
ASIN: B00COQG8S6

More Shapes, Patterns, and Layers (Bellydance for the Versatile Dancer, Volume III)
by Zanbaka
ZD Publications; 1ST edition (2009)
price $45.00

Music of the Arabs
by Habib Hassan Touma
Hardcover - 238 pages New expand edition (April 1996)
Amadeus Pr; ISBN: 0931340888
book review

Nefertiti Presents...Belly Dancing "the basics"
a dedication to Nerfertit
by Sherry Jeffries (Ankestamen)
Instructional aid, or just for fun!
40 page, GBC bound, flip style, illustrated book for learning basic belly dance moves.
Detailed instructions on 20 basic moves, basic veil, floor work and zills

Oriental Belly Dance
by Kemal Ozdemir
160 pages
published by Milet Publishing, Ltd.
ISBN 975-7054-11-9

Oriental Dance: Discovering the Art of Belly Dancing
by Lisa Hartwell
Format: Kindle Edition
File Size: 650 KB
Simultaneous Device Usage: Unlimited
Sold by: Amazon Digital Services
Language: English
ASIN: B005IB3WU6
$9.97

The Power of Choreography: it's not what you think (Kindle edition)
by Leyla Najma & Daniel Latrimurti
File Size: 370 KB
Print Length: 33 pages
Simultaneous Device Usage: Unlimited
Publisher: Leyla Najma Belly Dance Video Productions (May 15, 2014)
Sold by: Amazon Digital Services, Inc.
Language: English
ASIN: B00KDP6EAM

The Rough Guide to Bellydance
by Rough Guides
Raks Sharki: oriental dance moves
published by Rough Guides; Abridged edition (April 2002)
ISBN: 1843530171

"Sacred Woman, Sacred Dance: Awakening Spirituality Through
Movement and Ritual"
ISBN: 0-89281-605-8
Publisher: Inner Traditions, Intl.
(800) 246-8648

The Secret Language of Belly Dancing
by Maria Strova
Paperback: 224 pages
Publisher: BookSurge Publishing (October 25, 2006)
ISBN: 8875076162

Serpent of the Nile: women and dance in the Arab world
by Wendy Buonaventura
Paperback: 224 pages
Publisher: Interlink Pub Group; 2 Upd Rev edition (June 1, 2010)
Language: English
ISBN-10: 1566567912
ISBN-13: 978-1566567916

Shapes, Patterns, and Layers (Bellydance for the Versatile Dancer, Volume II)
by Zanbaka
ZD Publications; 1ST edition (2008)
price $45.00

Snake Hips: Belly Dancing and how I Found True Love
by Anne Thomas Soffee
Hardcover, 256pp. (Oct. 2002)
Chicago Review Press, Incorporated;
ISBN: 1556524587

The Soul of Belly Dance: culture and history
by Mezdulene Bliss
Paperback: 142 pages
Publisher: CreateSpace Independent Publishing Platform; 1 edition (June 10, 2014)
Language: English
ISBN-10: 150016089X
ISBN-13: 978-1500160890

Stomping Ground
by Kendra
Paperback: 134 pages
Publisher: lulu.com (November 29, 2009)
Language: English
ISBN-10: 0557201438
ISBN-13: 978-0557201433
Price $12.00

Stories from Inside the Mirror - A Belly Dance Anthology (Paperback)
by Robert Rohloff and Miriam Cunha
Paperback: 168 pages
Publisher: Lulu.com; 1st Edtion edition (November 6, 2007)
ISBN-10: 1430325208
ISBN-13: 978-1430325208

Stories of a Traveling Bellydancer
by Zaina Brown
Format: Kindle Edition
File Size: 335 KB
Publisher: Zaina Brown (February 21, 2012)
Language: English
ASIN: B007C81W1Y
Price $2.99

Taaj's Dos and Don'ts of Belly Dance Competition (Kindle edition)
by Taaj
File Size: 569 KB
Print Length: 100 pages
Publisher: The Belly Dance Trainer (December 31, 2013)
Sold by: Amazon Digital Services, Inc.
Language: English
ASIN: B00HMH31JG

Teaching Belly Dance
by Sara Shrapnell
Paperback: 238 pages
Publisher: Hoffman Gifford Publishing (February 27, 2014)
Language: English
ISBN-10: 0615980848
ISBN-13: 978-0615980843

The Tribal Bible, Exploring the Phenomenon That is American Tribal Style®
Bellydance
by Kajira Djoumahna
This book contains: Well over 300 pages of text by Kajira Djoumahna, with liberal quotes
throughout from various issues of
Tribal Talk (the FatChanceBellyDance® newsletter), Caravan Trails (the Caravan Studio
newsletter), and tribal belly dance enthusiasts
from around the globe, collected since 1995.
More than 300 PHOTOS, one third of them in FULL COLOR, including a full color photo collage cover!

Tribal Vision: A celebration of life through tribal belly dance
by Paulette Rees-Denis (Author), Indigo Editing (Editor), Declaration Design (Illustrator)
$25.00
Paperback: 152 pages
Publisher: Cultivator Press; First edition (June 10, 2008)
Language: English
ISBN-10: 0979160308
ISBN-13: 978-0979160301

Unveiling: the inner journey
Alay'nya
Paperback: 544 pages
Publisher: Mourning Dove Press, Inc. (July 12, 2011)
Language: English
ISBN-10: 0982901305
ISBN-13: 978-0982901304

The Way of the Belly
by Neena & Veena
The Way of the Belly: 8 Essential Secrets of Beauty, Sensuality, Health, Happiness, and Outrageous Fun
Hardcover: 256 pages
Publisher: Hay House; Bk & DVD edition (April 15, 2006)
ISBN: 1401906133

You Asked Aunt Rocky: answers & advice about Raqs Sharqi and Raqs Shaabi
by Morocco (C. Varga Dinicu)
Perfect Paperback: 423 pages
Publisher: RDI Publications (2011)
Language: English
ISBN-10: 0983069042
ISBN-13: 978-0983069041

top

Other Sites with Book lists and Book Reviews
The Art of Middle Eastern Dance (by Shira)
Middle Eastern Dance Resource Guide


Online Book Stores


Amazon.com
Booksamillion.com
BN.com (Barnes & Noble)

top

Booklist
1. "An Account of the Manners & Customs of the Modern Egyptians" by Edward William
Lane (first published 1832).
Excellent descriptions & drawings by the author.
Out-of-Print

2..

"The Arab World: Personal Encounters" by Elizabeth W. Fernea. The author revisits the
places she lived.
Paperback (November 1988), Waveland Press; ISBN: 0881334049


3.

"At the Drop of a Veil" by Marianne Alireza. A young American college student, marries a
well-placed young
Saudi and goes to Saudi Arabia to live with him.
Hardcover (June 1993), Buccaneer Books; ISBN: 1568490135


4.

"Belly Dancing" by Wendy Buonaventura. This beautifully illustrated book is a pot-pourri
of myth, history, anecdote,
travelers' tales and accounts by belly dancers today.
Out of Print

5.

"Belly Laughs: adventures with celebrities and other unusual characters" by Rod Long.
Entertaining & quirky
stories from 32 of the world's most mysterious women. Some of the dancers who have stories
within this book, Amaya,
Tamalyn Dallal, Jodette, Aziza Sa'id, Amar Gamal, Mesmera and Fahtiem.
Paperback - 216 pages 1 edition (June 1, 1999), Talion Publishing; ISBN: 1890916501


6.

"Beyond the Veil: a Male/Female Dynamic in Modern Muslim Society" by Fatima Mernissi.
About what the author
saw in her country and society of Morocco and its crippling effects on men as well as women in
their relationships & dealings with one another.
Paperback - 200 pages Revised edition (April 1987), Indiana Univ Pr; ISBN: 0253204232


7.

"The Forgotten Queens of Islam" by Fatima Mernissi. About the uproar in the Islamic world
by men after the election of
Benazir Bhutto to head the government of Pakistan.
Paperback - 238 pages Reprint edition (September 1997), Univ. of Minnesota Pr (Trd);
ISBN: 0816624399


8.

"Grandmother's Secrets: the ancient rituals and healing power of belly dancing." By
Rosina-Fawzia Al-Rawi. A book
that combines the memoirs of an Arab grandmother with instructions on how to use Oriental
dance moves for personal growth, spiritual
expression, and insight.
Hardcover - 256 pages (March 1999), Interlink Pub Group; ISBN: 156656302X;


9.

"Guests of the Sheik: an ethnography of an Iraqi Village" by Elizabeth Warnock Fernea.
The authors first book, about her
years spent with and within women's culture in a small village in Iraq.
Paperback - 346 pages Reissue edition (June 1969), Doubleday Books; ISBN: 0385014856


10.

"Harem Years: the Memoirs of an Egyptian Feminist" by Hoda el Shaarawi; translation by
Margot Badran. About the life
and times of a woman of Ottoman Egypt's ruling class during the first part of the 20th century.
Hardcover (March 1987), Feminist Pr; ISBN: 0935312714; $35.00

11.

"The Hidden Face of Eve" by Nawal el Sadaawi. The author, Egypt's leading radical feminist,
writes about her real life.
Out-of-Print

12.

"The House of Obedience:Women in Arab Society" by Juliette Minces.
Paperback (January 1982), Zed Books; ISBN: 0862320631


13.

"Intermediate Belly Dancing" by Vicki Corona. Provides a brief culture lesson on Saudi Arabia,
describes how to do about
18 intermediate-level moves, offers a few finger cymbal rhythms, provides a structure for combining
movements into a complete dance,
and introduces what a dancer should know when beginning to perform for an audience.
Mass Market Paperback - 28 pages 1 Ed edition, Earth Dance International Publishing; ISBN: 1585130249


14.

"Khul-Khaal: Five Egyptian Women Tell Their Stories" by Nayra Atiya. As the title implies,
these women tell their stories so
vividly and in their own words.
Paperback (September 1982), Amer Univ in Cairo Pr; ISBN: 0815601816


15.

"Looking For Little Egypt" by Donna Carlton. This book is very well written. The author did a lot
of research before writting this book.
Paperback (June 1995), International Dance Discovery Books; ISBN: 0962399817


16

. "Middle Eastern Muslim Women Speak" by Elizabeth Warnock Fernea & Basima Bezirgan.
An overview of the real lives of women
in the Near and Middle East.
Paperback (July 1978), Univ of Texas Pr; ISBN: 0292750412


17.

"Nubian Ceremonial Life" by John Kennedy. A nice study of the importance of communal dancing in
Nubian culture.
Out-of-Print

18.

"Price of Honor: Muslim Women Lift the Veil of Secrecy on the Islamic World" by Jan Goodwin.
The accounts of the terrible price
women are paying for the rise in so-called "fundamentalism".
Paperback Reprint edition (August 1995), Penguin USA (Paper); ISBN: 0452274303; $14.95

19.

"Princess: a true story of life behind the veil in Saudi Arabia" by Jean Sasson.
Mass Market Paperback, Reissue edition (April 1997), Avon; ISBN: 0380719185


20.

"The Rom: walking in the paths of the gypsies" by Roger Moreau. The author's account of his efforts
to research the history of the
Rroma, especially those aspects that are still not completely understood by modern-day Gypsiologists.
Paperback - 304 pages (September 1997), Key Porter Books; ISBN: 1550138685


21.

"The Saudis: inside the desert kingdom" by Sandra Mackey. The author is a journalist for the Christian
Science Monitor. To write
this book she had to smuggle the notes out of the country.
Out-of-print

22.

"Serpent of the Nile: women and dance in the Arab world" by Wendy Buonaventura. Explores the history
of belly dancing from ancient
times through the resent.
Paperback - 208 pages Reprint edition (February 1998), Interlink Pub Group; ISBN: 1566563003


23.

"Shahhat, an Egyptian" by Richard Critchfield. About the friendship of a young Saidi man and the author.
Paperback Reprint edition (August 1984), Syracuse Univ Pr (Trade); ISBN: 0815601514


24.

"A Street in Marrakesh" by Elizabeth W. Fernea. About the author's time in Morocco.
Paperback (November 1988), Waveland Press; ISBN: 0881334049


25.

"They Told Me I Couldn't: a young woman's multicultural adventures in Colombia" by. Tamalyn Dallal.
Describes Tamalyn Dallal's
travels around Colombia after getting a job belly dancing in an Arabic restaurant in Bogota.
Paperback - 170 pages 1 edition (January 1997), Talion Publishing; ISBN: 1890916196


26.

"A Trade Like Any Other" by Karin van Nieuwkerk. About the real life and social position of the dancers of
Cairo's Mohamed Ali Street.
Paperback - 226 pages 1st edition (September 1995), Univ of Texas Pr; ISBN: 0292787235.


27. "Valide: a novel of the harem" by Barbara Chase-Riboud. About the life of Aimee Dubuc de Rivery, cousin
of Josephine Bonaparte, who
was captured by Barbary pirates on her way back to Martinique.
Out-of-Print

28.

"The Veil & the Male Elite" by Fatima Mernissi. An historical overview of the life & times of the Prophet Mohamed.
Paperback Reprint edition (November 1992), Perseus Pr; ISBN: 0201632217


29. "

Veiled Half Truths" by Judy Mabro. An overview of how colonialist and their racist attitudes of the Near,
Middle East and North Africa
during the 18th & 19th century.
Paperback Reprint edition (January 1996), I B Tauris & Co Ltd; ISBN: 1860640273