More about Yasmina
Teaching & Performances
Bio, Photos & More
Costume Stores
follow me on

---
Spotlight Video
of the Month
Cairo Belly Dancers - short video from National Geographic
Spotlight Link
Translations of 1930s Gossip Column in a Local Cairo Paper
"New and Second Hand Costumes: Our Elegant and Not So Elegant Dancers" & "Madame Badia Masabni"
Translations by Priscilla Adum

What's New
Updates:
---
Amira's
"Bellydance and
Yoga for
Pregnancy"
DVD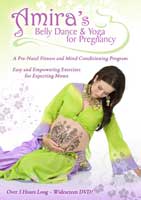 EMPOWERING EXERCISES
FOR
EXPECTING MOMS

Amira brings the ancient arts
of Yoga and Belly Dance
together in a modern world,
with a program that teaches
gentle and effective techniques
to help every woman on the
path to one of life's most profound
experiences - motherhood.

For more info please visit us at:
www.pregnantbellydance.com

---
Your best source for quality silk veils

Buy 4 get 5th FREE troupe discount!

36 different colors in all sizes-
Standard, petite, semi-circle, 3/4 circle, & poi sets!

Always FREE shipping in the US

100% Habotai 5 mm silk
100% satisfaction guaranteed!

www.amirasbelly.com

---
Pamela's
Treasure
Emporium





visit us on
eBay

---
Would you like to see your ad here?? Check out the Ad Page for more info.
---